In the early years of this century there was a surge in building across Southern Europe. There was a craze for buying tourist properties, usually off plan at vastly inflated prices. I wrote a book about it to warn people against getting involved.
The Little Off-Plan Book
is still available from the Unique Property site:
http://www.property.org.uk/unique/book/index2.html
A cut-down version of the contents is available as part of my revised book on real estate: T
he Ultimate Real Estate Guide
, available from the same page.
As a result of this boom in building, the regional authorities decided to heavily advertise the south-western coastal area of Spain, that area known as the
Costa de la Luz
. Various areas were identified as ripe for development, and that included a large, then derelict area north of Ayamonte and bordering the Guadiana estuary. The area to the south of the town was also identified as an area suitable for development, and planning consent was given for the building of tens of thousands of houses and apartments.
This new tourist area was to be served by a newly built airport, originally centred on the town of Lepe. Plans were drawn up, and the airport was to be operational by 2012.
Sadly, the financial crash of 2008 and the subsequent property crash put a stop to the building, and plans for the new airport were put on hold.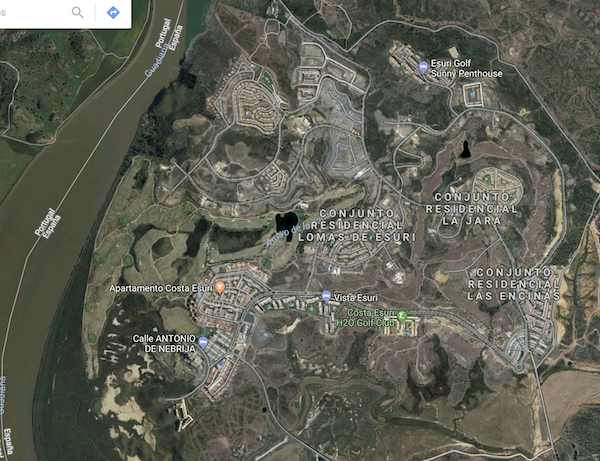 One of these development sites was called Esuri. It is a development rather in the style of Welwyn Garden City, with small satellite developments all separated by natural areas, but with the distinct difference that the properties, once sold, have mostly not been occupied. Half the area is for sale, and many of the properties are listed as either for rent or for sale, and because there are so many of them the prices are low. It is a buyer's market.
Please note this: IT IS A BUYER'S MARKET. That means that asking prices are not indicative of what the vender will accept. They are tentative suggestions of a price that the vender is hoping will tempt a buyer. Substantial reductions can be bargained. If you don't succeed in knocking down the price of one property, try another.
Alternatively, try renting. Just for fun I am renting a four bedroomed detached home with a large garden here. If you want to know what I'm paying, just look up some of the long term rental prices on the agency websites.
If you search back through my blogs you will see I predicted that the average two bed apartment around here would drop to €60,000. At the time, the prices were more like €160,000. Those who don't understand real estate markets scoffed at my predictions. They have, of course, come true.
Here is a link to a back issue of my property blog:
http://www.property.org.uk/unique/blogs/holiday-homes1.html

Here's another link that many interest you:
https://theuniquepropertysite.wordpress.com/category/real-estate-markets/spain/