Living in Northern Spain

Northern Spain is different from the Spain most tourists know. It is more like England. It's wetter and cooler than the Mediterranean coasts, and is dotted with green fields, small rivers, and is bounded for most of the way by the great mountain range known as the Picos. This is great climbing and walking country, and the cider is pretty good.
There are innumerable small coves, very short streams rushing down to tiny sandy beaches. It is a delightful part of the world. Once you get beyond Cantabria you are into the most sparsely populated province in the whole of Spain, Asturias. There are a couple of large towns, but the rest are very small, almost empty, and the rest of the countryside is dotted with villages. It is very much a farming community.
Easyjet has flights to Oviedo from the UK, so the area is not as isolated for travellers as you might at first think. I've never flown into the airport so can give no advice.
Besides Oviedo there is Leon as a big centre, with an attractive cathedral with some rather fine stained glass windows. However, this is quiet country. If you move around here you have decided to get away from it all.
The food is rustic and substantial. Lunch in Asturias is a major event. The menu del dia arrives. You choose either fish or meat, but the first course is a big bowl of soup made with beans and crustacia. This is enough to feed a whole house. When I last passed this way, mindful of what is to come, two servings is all I felt able to manage. It tastes delicious. Next came the meat course, which consisted of three massive chunks of mutton on the bone, with a few crumpled chips. One of the meat chunks had to go in the doggy bag, and I had that for supper. The wine was some vitriolic stuff, that is almost cerise in color, and threatened to take the lining off my stomach. Pudding was a selection of massive, rich cakes. By the time I had done I felt pole-axed.
One of the most characteristic sights here is the storage sheds. These are raised high on staddle stones to keep out the rats, and with verandahs all around.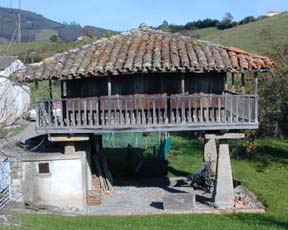 As you cross into Galicia these storage sheds take on a totally different aspect. They become long and thin instead of square, and are vented by gaps in the brickwork, or by wooden grills.
Towards Galicia the land becomes flat, and the fields run down to the sea's edge. The port of Ribadeo, on a rather fine estuary, was obviously once a rich port. It now looks rather washed out, but the town hall is a fine building with an amazing roof, and a cupola supported by four angels. The main windows contain stained glass. The secret would seem to be next door: the customs house. Presumably a lot of useful dosh was made from import duties. But I have no guide book to enlighten me.
When I was last there, about a decade ago, there was a massive building for sale right in the town with a fine view over the estuary.
Further across in Galicia there are scenic fjords called rias, where the fisherman cultivate crustacea. If you like shellfish this is the centre of the galaxy. Writer after writer from the early eighteenth century onwards has waxed lyrical about the seafood, and I add my pennyworth. Splendid.
But….. you will need to learn Spanish if you move here. This is most definitely not tourist land.
john