South-Eastern Sicily

Sicily is not quite what I thought it was going to be. I guess that is the over-riding comment for this whole trip of mine.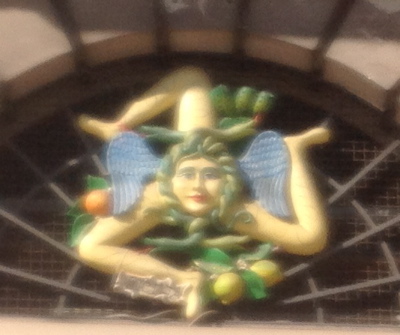 Sicily used to be a place that you steered clear of because of all the troubles. That meant trouble with hoods and hoodlums because of the ever present backdrop of the mafia. I had understood that the mafia were finally broken in Sicily, and indeed Messina's airport is named after a pair of magistrates who went a long way to smashing that organisation. However, I am told it still exists, but in a smaller, less obvious way. It's not my subject, so I dont know. The place seemed calm enough on the surface, and the subject didn't really come up in conversations with the locals.
So, has the new improved look to Sicily improved the tourist figures? The answer to that question is a resounding 'No'. So what the heck has gone wrong here?
Wherever I looked, except in Taormina, the island's economy seemed to be on its knees.
The sun was setting over the mountains as we stood on deck of the ferry crossing the straits from the mainland. Then we drove through the city of Messina, up to the motorway, and cruised down to the village where I'd booked a hotel.
The mountains come right down to the edge of the sea here, and there is scarcely room for the roads, and the railway line, let alone any houses. The notices on the motorway are confusing as well. I saw a sign for my turn-off, but there wasn't any turn-off, and we had to drive to Taormina, and then drive back about eight miles to get to our destination.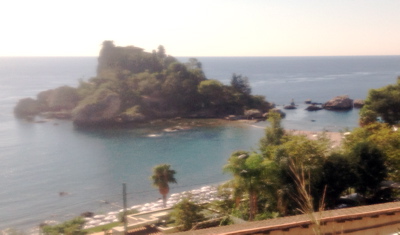 This area of Sicily is seriously claustrophobic. However, Our arrival at Sant Alessio Sicula was spectacular. We rounded a headland, and turned to descend into the town, and as we started to coast down the hill we were greeted with a spectacular burst of fireworks lasting about five minutes. We stopped the car on a bend, and pulled right into the side, and watched cascade after cascade of brightly coloured lights light up the town below us.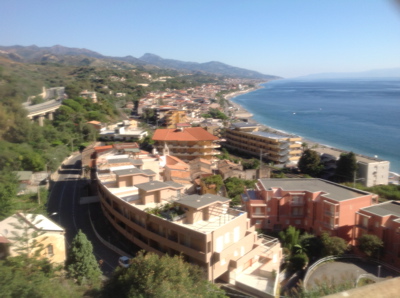 Thanks guys, I dont usually get such a reception. Nice to know I was welcome.
We coasted the rest of the way down the hill, and found our hotel. As I got out of the car another burst of fireworks lit up the night sky, and we then got a 7 gun salute. At least there were seven mighty bangs. I hope they were a salute and not warning shots.
The mountains here are set back a bit further, giving the town room to breath. The beach is long and sandy. Our hotel was right on the front. Next door was the first of many familiar sights, a partially built hotel, which had obviously been abandoned some years previously. It was now being used as a car park.
I can recommend this place. This whole stretch of coast either side of Taormina is clearly the centre for tourism on the island. The town is busy, the beach at Taormina is a bit small, but rather pretty. And the place was booming.
The following morning we drove down the east coast to Catania and Syracusa. I cant say I was impressed. Etna is, of course, interesting, but the coast is rather dull. I cant say I was impressed with the towns either, but then I have discovered that I have a problem with Italian towns. They are a mess, and you get stuck, and getting out again is a nightmare. There is also the problem with Italian drivers, who go for every opportunity, and the rule of right of way on roundabouts is ignored throughout the island.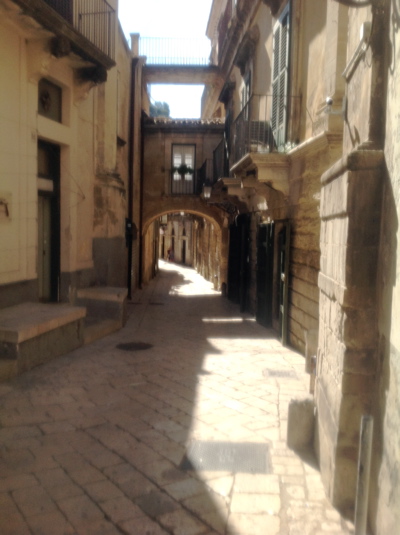 One of the things that immediately impressed itself on me was the total lack of any sense of tourism in the place. There are interesting towns; Noto, and Modica. I could chat on about the things to see in both places, but the towns themselves, setting aside the buildings to look at, are not user friendly. And as you start to travel along the southern coast of the island you soon realise that if there is a coast to exploit then no-one wants to know. There are miles and miles of poly-tunnels all along this coast, and access to the sea is limited.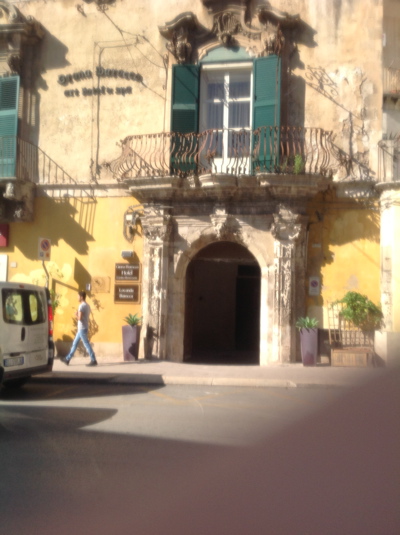 I'm not sure whether I'm simply seeing this island through the wrong eyes, but I am looking at it in terms of buying homes for foreign settlers, or people wanting to rent out holiday homes. For either situation I would say there are problems unless you are a confirmed lover of Italy and Italian food and you can manage at least some language.
First, and crucially, the holiday season is reckoned to last 2/3 months. The best you can expect apparently is for tourists to come in June, July and August. I was there in mid september, and the weather was gorgeous, but the place was deserted, and hotel after hotel was either closed, or virtually empty. If you are looking to own a home which you can rent out for any length of time this is not the place to buy.
Secondly, the place is littered with abandoned properties, and that includes a fair sprinkling of hotels. Empty, or half built hotels are everywhere. It is clear that tourism here has simply not taken off. A quick look at the local airports seemed to confirm this as the passengers passing through were overwhelmingly Italian.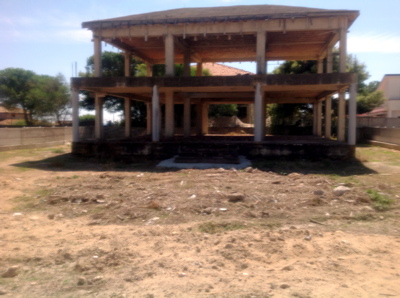 Thirdly, as I had found in Southern Italy, the island was solidly Italian. English speakers are few and far between. One gentleman I spoke to said, "It's not our fault. We are taught English in school, but the teachers are hopeless." You can take that with a pinch of salt, but the end result is, not a lot of English spoken, and if you want to survive here you need to start learning Italian fast.
Fourthly, you really do have to go native. If you like Italian food, then there will of course be no problem, but if you get fed up with pasta paninis and pizza, then dont even think of coming to live here, because that is all you'll get.
There are some ex-pats about, but not many. There are also problems with many of the beaches due to contamination. There is a rather nice stretch of beach running from Licata to the other side of Agrigento, but in parts there are oil slicks, and in other parts there is a nasty scum on the water which is probably due to raw sewage being pumped into the sea. This is a great shame as the beaches are delightful, and the sea is shallow, and in many places there is a shelf just offshore which means the swimming is protected, and the water is warm.
Just west of Gela there is a rather nice little development which should interest anyone who fancies in this part of the world. The problem will be loneliness. In mid september it was deserted, and the cafes were closed. Here are some pictures: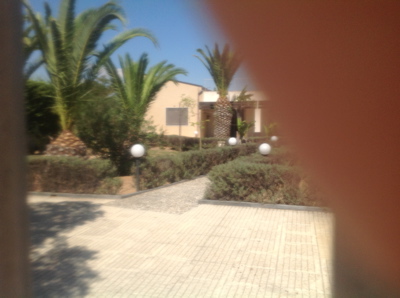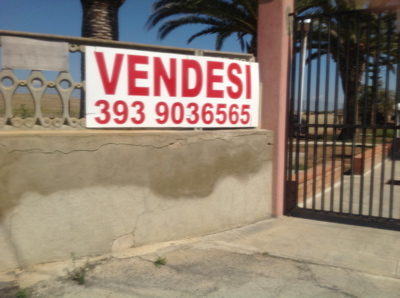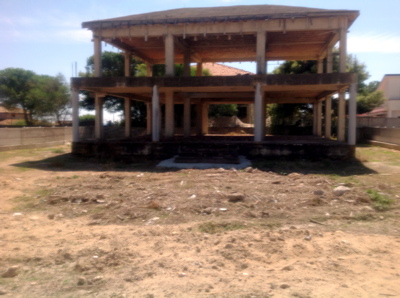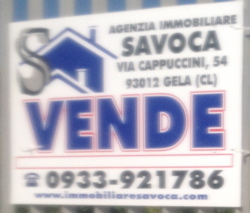 The main plus here is, of course, the cheapness of many of the properties. The starting price for small buildings on a reasonable patch of land capable of development, is about €5,000. And there are literally dozens of properties around for under €50,000.
We liked the beach at Porto Empedocle, which is Agrigento's beach area, as well as being an oil terminal, but the sea here seemed to be clean. It was also very shallow again, and you can wade out for 100 yards and still only be up to your waist. There is also a busy and good beach cafe here.
Back inland is a nature reserve, but it does not look very impressive. And there is another ruined development in its midst. Someone once thought of developing here, and gave up. Here's a picture of it.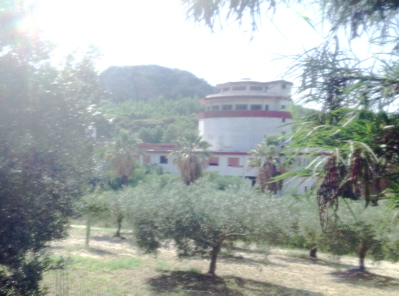 In conclusion, if you are interested in this neck of the woods then there are two areas to concentrate on, the area either side of Taormina, or the area around Agrigento, which is also a tourist spot, as there is a bunch of Greek temples here. We stayed some time and liked it. And there is a train service up to Palermo, although the drive to the airport is rather long. I was quoted two hours.
I have included some more properties for sale in this area on the next Unique Property Members' pages. To subscribe to the members' section, you need to visit the
Unique HomePage
.
john