The gardens of Portrack House. Unusual gardens. Unique gardens.

| | |
| --- | --- |
| A Cosmic Garden Architecture | Portrack House Scotland |
A garden whose unique architecture is based upon modern physical theories.
Charles Jencks and Maggie Keswick created this garden in the nineties.
Below are the Snail and Snake mounds and the Slug Lakes.
There is a representation of a dragon with its head projecting into the water to become the mouth of a water dragon, whose own body was formed from a ribbonlike stream and fishtail ponds.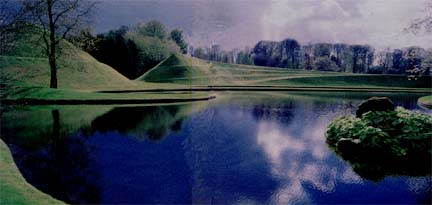 The terrace is designed to portray the distorted space around a black hole, where gravity bends light to nothing......
To read the complete text you will need to become a Unique Member. You can join from here:
© The Property Organisation 2011