The Baltic -- Estonia Part 2

I note from the instructions on the door of our hotel room that the company has "the right to sak the tenants" if they make too much noise. Dont you just love foreign English!
Tallin clearly has the look of a remodeled city. There is the old city centre, roughly bounded by remnants of the old city walls. There are buildings dating back to the fourteenth century, large chunks of renovated defense walls, and several viewing platforms.
There are also modern additions, and one area of the city is rife with cranes. On top of the hill is Alexander Nevsky church with its onion domes.
Down in the city itself are churches with ridiculously high steeples, made higher by extra features built in to emphasise the message: Somewhere up there is salvation. I assume the towers and spires are pointing the way.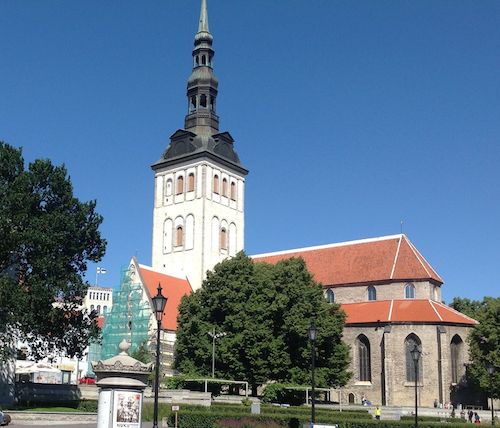 I was reminded of a remark by Lawrence Durrell, that God must get fed up looking down at all those fingers pointing up at him. Although these days I suspect God has moved house, while space craft have moved into his old home.
The devout still light their candles and go through their curious rituals. The rest of us gawp, and then repair to the nearest cafe. Across the street someone is going through the trash bins, collecting bottles, presumably to get some pennies on returns, or simply recycling. I was too lazy to get up and ask, but later I found a woman collecting cans, which she stamped on to flatten, and added them to her big black bag. Clearly there is money in recycling here.
The main square is ringed by restaurants selling mostly over-priced meals, and boasting medieval feasts. Specialities are elk soup, smoked beaver, and bear steaks. This evening I tried the beaver. It looked and tasted like ham, only with less flavour. You haven't missed anything.
I hear there are wild bears in the forests, and there is a licensing system in place. There is a maximum cull of thirty bears a year, and that provides those restaurants who have the relevant license to add the meat to their menu.
The roofs of the buildings are steep, presumably to encourage the snow to slide off. That means they are substantial, and clearly the rain is too. The downpipes are built to carry a deluge.
Everywhere are groups of girls mainly dressed in black, with one dressed in pink or white and carrying balloons. There is a custom here of pre-marriage festivities, and the tourist trade in hen and stag nights is well established with shops specialising in hiring or selling outrageous gear, mainly for the men.
If the evening's spectacle was anything to go by, tomorrow is going to be busy for the churches. There must have been at least a dozen groups of girls flanking a bride-to-be.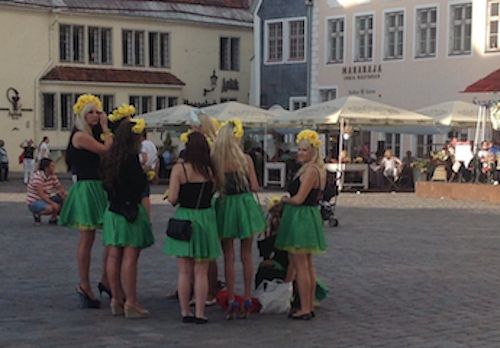 I ought to be paying attention to the property market, although I can't imagine this place will appeal to most people. There is a solid base of English speakers. Apparently Russian was the second language until the break-up of the old Soviet Republics, and the general view of Russia is not sympathetic. Generally, folks seem to be glad to be rid of what was seen as a ghastly repression. With Russian out of the way, English has become the second language, and folks are keen to practice.
The countryside is generally rather boring. The country is as flat as a pancake, and covered in forests of pine. Where there are no trees, there are fields of cows. The coast is interesting with a few islands. If you like the countryside and wildlife this is a great place to wander about in peace during the summer. However, there is a lot of rain about, and winter is rather fierce.
As we wend our way south we pass lots of country properties like sheds and barns, many of them derelict. Clearly there is a market for renovating these properties. Every so often along the highway we pass a tiny pit-stop, just a small room with a curving driveway off the highway. Outside the capital city things are on a small scale, except for the forests.
< < < Part 1