Martello Towers
Martello Towers are gun towers which were constructed between 1805 and 1810 along the coast of East Sussex, Kent, Essex, and Suffolk as a systematic chain of defence against the threat of invasion by Napoleonic forces.
The design is based on a fortified tower at Mortella Point in Corsica, which had put up a prolonged resistance to British Forces in 1793.
The ground floor of the towers was used for storage, with accommodation on the first floor and the gun platform on the roof. The towers in East Sussex and Kent carried a single 24 pounder.
Most of the towers were abandoned or were demolished during the nineteenth century, altho some continued in use into the twentieth as signalling or coast guard stations, or look-out stations during the two world wars.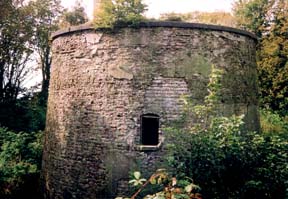 The cost and logistics of these defences were not inconsideable: from Beachy Head to Dover 73 were built. In some areas where the land was very flat, such as at Pevensey, they were placed about 600 yards apart.
A further tower was added later at Seaford.
Most of the towers are of the same design. Each took an estimated 500,000 bricks, and cost between £2,000 and £3,000.
Because of the large number of bricks required, those on the south coast were built with a mixture of local red brick and yellow London brick.
Each structure was about 30 feet high with walls up to eight feet thick
Each tower had a magazine to hold explosives, plus usual stores of food etc, plus a systern to hold water which was collected on the gun turret and piped down lead pipes.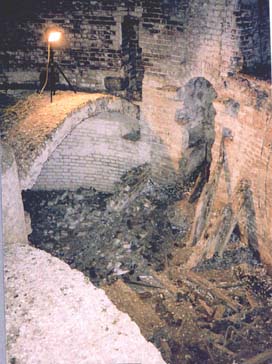 There are still quite a few of the towers left along the south coast. We have now, or have had, most of them on the site.
There are the three at Folkestone, and there is one which has been renovated outside Rye, and several near Dover.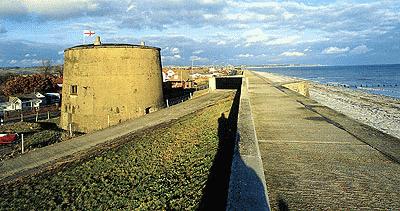 There is one leaning into the sea at Norman's Bay.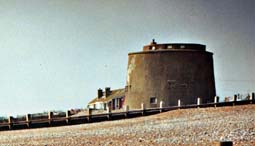 And there are two more on the Sovereign Marina at Eastbourne.
There are also two which have been renovated in Pevensey, This one was briefly for rent on the Unique site. You'll notice they have got away with adding a totally out-of-character wing.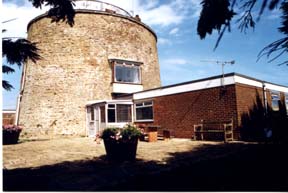 You can guarantee they are all listed buildings, and probably also scheduled as Ancient Monuments. This means you can do little to alter their appearance. In some instances you will be allowed to add a single story building alongside the tower. You will not be allowed to increase the number or size of the windows. Your only decent room will be the top storey where the gun turret used to be. You can have a wraparound window there.
The buildings are generally built of thick masonry varying in thickness from two feet to eight feet. They are usually thicker on the seaward side.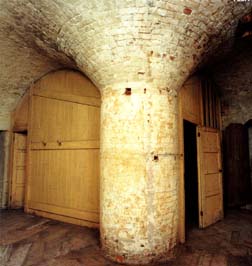 There is a central flute which tends to hold the central part of the structure together.

And this is what it can look like inside. You should be able to make out the mushroom-shaped central column. The pic on the left is before, the one on the right is pretty much the same view after.
Repairing these things costs a fortune. I have had quotes from people who have done it. You will need between £100,000 and £200,000.

They are awkward things to live in. There is very little light in the lower two floors. One does get a sense of constriction inside, and if sparsely furnished you will have problems with booming sounds. If you suffer from tinnitus, dont move into one. They are also notoriously difficult to sell.