A railway carriage home
I've always had a sneaking desire to live in a railway carriage. There are a few people who do live in carriages, but there is a village close to Bognor Regis where a whole community of railway people live in carriages blended in with other buildings.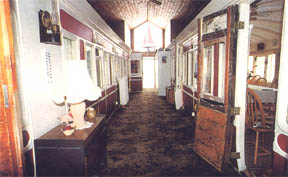 After the first world war much of the local railway stock was regarded as out-of-date and was pensioned off in the siding at Bognor. Some people started living in the carriages, and then some were moved down the road to Pagham.
They were transported by horse and waggon, and had their wheels and bogie sets removed first.

By the middle of the 1930s there were almost 250 properties at the beach in Pagham, and most of them had begun life as railway carriages.
During the second world war the place was taken over by the army, who did a certain amount of damage, and, indeed, some of the carriages were broken up and used for firewood to keep the troops warm.
Some of the carriages have been set together and covered over by a separate roof producing a strange amalgam.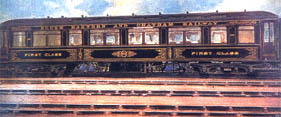 This is what the inside of the first class drawing room carriage looked like at the end of the nineteenth century.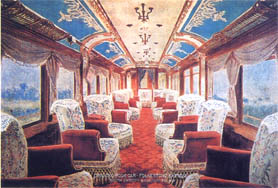 Some of the original coaches came from the old South Eastern and Chatham railway company. S.E.& C. These letters came to stand for something quite different, as the company had a reputation for being very slow, and it was usually called the Slow Easy & Crawling railway company.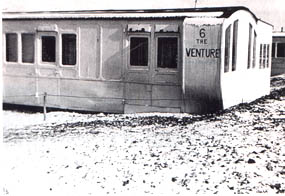 And if you want a garden shed all you have to do is chop a carriage into the right size.
Today there are not so many carriages on the site, but a few still remain, giving the village a unique charm.