House of Straw
Apparently strawbale buildings were first constructed in the USA in the late nineteenth century when baling machines were invented. On the planes of Nebraska there were not many trees and no stone, so while waiting for timber to arrive to build, they built temporary houses out of straw bales.
They are warm in winter and cool in summer as the insulating benefit from straw is good. Accordingly, many such houses were built up to the time of the second world war, and are still standing.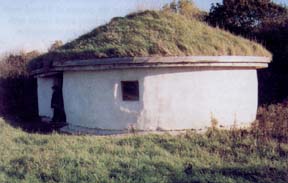 These houses are made from the ultimate natural product. It is generally regarded as a waste product, the by-product of a useful crop. It can be composted after use.
It has been estimated that with 4 million tons of surplus straw in the UK we could build almost half a million houses of 150 square metres in size every year, all super insulated. The U value is two or three times higher than usual building materials.
Strangely straw is a low fire risk. It is also low cost, with a bale costing about £1.50 delivered, and a house can be built using 350 bales. The bales can also take enough weight to build up to two storeys.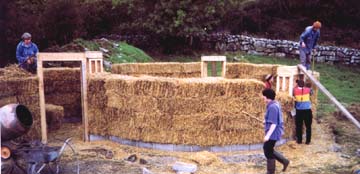 The Nebraska style of building is simplicity itself. The bales are pinned to the foundations and each other with coppiced hazel, and have a wooden roof plate on top. This is also attached to the bales with coppiced hazel. Windows and doors are placed inside wood box frames, and these are pinned into the walls as they go up. The bales are subsequently rendered using lime and/or clay renders both inside and out so that when they are finished they look like quaint village houses from medieval times.
It all seems very simple efficient and great fun.

North Kesteven District Council has commissioned 4 three-bedroom semi-detached straw bale houses for social housing.
It is part of its bid to build affordable, environmentally-friendly homes.

Costing £120,000 each, the four properties will be made out of 480 tightly-packed bales with lime-washed walls.

They will be located in the village of Martin and Waddington, with plans to begin construction later this year (2009).

The designers - social enterprise company and straw bale specialists Amazonails - say such buildings can save householders up to 80% a year on heating bills.

It is a philosophy backed by Rachel Shiamh - she used 400 wheat and barley straw bales to create her award-winning two-storey home in Penwhilwr, St Dogmaels, west Wales. Her house is built out of straw bale bricks, without any other supporting structure.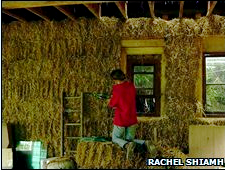 She says: "It is a way of returning to nature - it's a far more breathable, natural, healthier environment. The insulation is fantastic and when you build a home like this you have the opportunity to sculpt and play with the clay and shape the bales to suit your desires."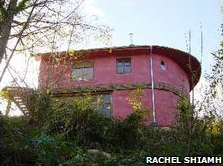 Rachel Shiamh was one of the first in the UK to use straw bales. "It's easy to see why straw bale houses are so popular. They can be produced at reasonable cost, have little embodied energy as they incorporate a waste product, and can provide superb insulation.